OUR PHYSICIANS
Meet Dr. Jason Allen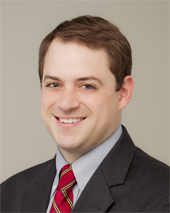 "I believe it is important for patients to understand the distinct differences between my skills and experience as a double boarded colon and rectal surgeon versus other medical professionals involved with the diagnosis and treatment of GI disorders. Years of rigorous training with both the endoscopic treatment of colonic disease but also the surgical management of colonic disease, is truly what sets my practice apart. Being able to take care of my patients through both aspects of care is not only rewarding as physician, but also a significant benefit to the patient in terms of a comprehensive approach to their care."
Dr. Jason W. Allen is a native Texan with roots in Dallas-Fort Worth and knew during his residency training that Fort Worth would be the right place to set up practice once his training was completed. Before he was ready to practice however, Dr. Allen had a colon rectal fellowship in Chicago at the prestigious Cook County Colon and Rectal Surgery Residency Program in Chicago, IL, under the training of Dr. Herand Abcarian, an international leader in colon and rectal surgery, to complete. Dr. Allen's Residency program concluded in 2010, and as planned, he began seeing patients in Fort Worth as a new partner of Fort Worth Colorectal Surgical Associates, alongside of another influential mentor and colon and rectal surgeon, Dr. Paul Senter.
Through his experience with Dr. Abcarian and training with other leading physicians, coupled with the board certifications of the American Board of Surgery and the American Board Colon and Rectal Surgery, Dr. Allen has extensive training and experience with clinically advanced treatment techniques with laparoscopic and robotic surgery, focusing on surgical solutions that are minimally invasive to his patients. "I 'fast track' my surgery patients to limit how much time they have to spend in the hospital and to reduce their recovery time as much as possible." maintains Dr. Allen. Another cutting edge treatment solution provided by Dr Allen is for patients suffering from accidental bowel leakage or fecal Incontinence. In fact, Dr. Allen is the most experienced colon and rectal surgeon in the placement of the Medtronic Interstim Neuromodulator for treatment of accidental bowel leakage in Fort Worth. This advanced clinical therapy is high effective in treating accidental bowel leakage and has helped patients regain their normal lives.
Dr. Allen also takes special interests in the screening and the minimally invasive treatment of colorectal cancer. He believes the treatment of colon cancer to be highly rewarding, because if caught at a precancerous stage or an early stage, it can be cured either through endoscopic or surgical fashion. "The removal of colon polyps reduces the risks of colon cancer which is the third most common cancer in men and women. It is not a very well understood fact that more men and women die from colorectal cancer from prostate and breast cancer, respectively. If colorectal cancer can be caught at an early stage, it can be surgically curable. It is rewarding to be involved with the care of those patients." maintains Dr. Allen.
Dr. Allen and his wife, Christy, and sons, Walker and Rhodes, live in Fort Worth. For more information on Dr. Allen's education, training, awards, distinctions, publications and more, please click here.